PoC and (fly)light
«
return to main page
How-to demo @ InterAccess tomorrow
Originally written: Fri, Sep 23, 2005
Last modified: Mon, Dec 9-, 2005
More late notice news! (Yeah, I know... I'm real bad at updating this blog on a regular basis.)
I'll be at InterAccess tomorrow for their open house event and I'll be giving a short talk about (fly)light with an introduction to making LED matrices, programming PIC chips, and finally serial communications with Processing. So more or less, everything I know about electronics. :)
More info about the other open house events below. (I'm in bold.)
---------------
This Saturday: Open House at InterAccess's new space, 9 Ossington Avenue
Plus, workshops and more studio events
Ever wondered how interactive installations are made? Curious about electronics? Want to learn how to be a VJ? Do you just want to know more about what goes on in a media arts production environment? Come to InterAccess this fall, the place where art and technology meet — take a workshop, chat with studio members, take a tour and listen to electronic artists talk about their work.
Saturday, September 24, 11 a.m. to 5 p.m.
In celebration of Toronto's Arts Week and the opening of our new studio space, InterAccess is holding a special Open House this Saturday September 24 that will showcase our facilities and some of the activities that take place within the studio. The activities schedule is as follows:
12 - 1 p.m. -- Rob Cruickshank's Electronic Mobile: Come and see the creative possibilities that our basic electronics offers. Rob Cruickshank's Electronic Mobile is made only of materials covered in our Electronics Workshop. (Our next Electronics workshop will run on Saturday November 5th).
1 - 2 p.m. -- Pearl Chen shows you how to make your own LED sculpture: During this "mini-workshop," Pearl will show you how to program a home-made LED matrix using a PIC programmer. A do-it-yourself booklet will also be provided.
2 - 3 p.m. -- Surround Sound Concert: featuring the works from Sound Travels artist residency that took place in our studio this past August. Works by Lewis Kaye, David Ogborn and more. Curated by Darren Copeland.
3:30 - 4:30pm - Jeremy Rotsztain's LifeCycle: Life-Imitating Creative Systems: Jeremy's work is an autonomous, life-imitating video installation that creates concrete non-representational digital paintings in real-time.
Thursday September 29, 7 p.m.
Dorkbot Toronto -- a free, bimonthly event featuring "people doing strange things with technology." This month, presentations by Brendan Wypich, Owen Milburn and more.

Through November 7
Rarely seen works by Vera Frenkel, David Rokeby, Nell Tenhaaf and Norman White. Gallery hours: Tuesday through Saturday, 12 to 5 p.m. Exhibition continues through November 7, 2005, as InterAccess proudly presents an additional site-specific work by David Rokeby as part of "Interactive '05," November 4 through 7 at the Toronto International Art Fair, Metro Toronto Convention Centre, 255 Front Street West. Admission is free.
They didn't cover this one in school ;)
Originally written: Wed, Aug 31, 2005
Last modified: Sun, Dec 8-, 2005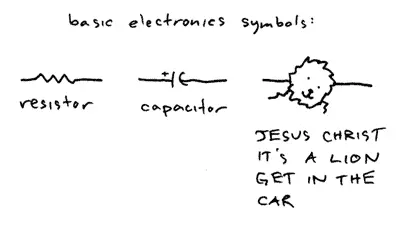 (via eyebeam reBlog)
LED sensors
Originally written: Sat, Aug 27, 2005
Last modified: Sun, Dec 8-, 2005
LEDs being used as photodiodes??? Is this an answer to my vexing PoC sensor dilemma?

LED Touch Sensing... work in progress by Jeff Han.
(via PixelSumo)
PIC curcuit board sketches
Originally written: Wed, Aug 3, 2005
Last modified: Sun, Dec 8-, 2005
I think anyone who reads this blog should know by now that I absolutely suck at drawing "real" electronics schematics...
So here's a couple of sketches using the PIC chip instead of the Basic Stamp. Meant to post these a long time ago -- sorry.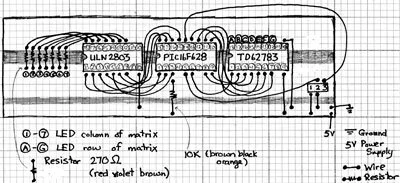 The version below uses a vector board in order to get a more permament curcuit. I didn't want to solder my PIC chip right into the board (otherwise, I wouldn't ever be able to re-program them), so instead I used header pins as placeholders. Solder those into the board instead and pop the PIC chips in and out as needed. Great for the wires to the LED matrix and serial comm port too.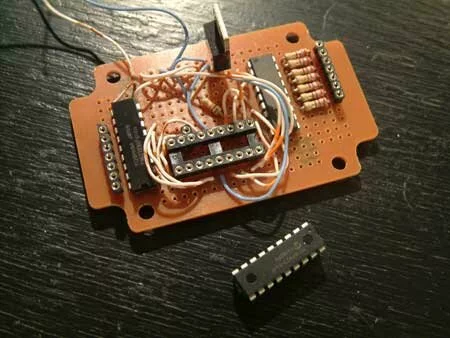 You can buy blank vector boards at Supremetronics on Queen Street West for 65 cents each. 18-pin machine pins were $0.70 each. You can get a single line of 32-pins too -- $1.15 each.
Cheap and easy if you're making one or two boards. If you're making more, I highly recommend just shelling out the extra cash upfront for printed curcuit boards (PCBs). (And I speak from personal experience here! It took me a full 3-4 days to make only 10 vector board curcuits.)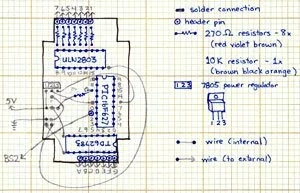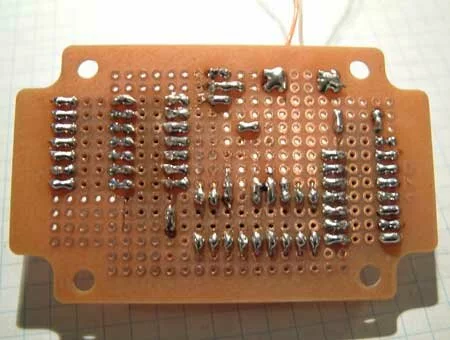 Electrical connections are made by bending any available wires or leads so they touch or almost touch. A dab of solder will keep it in place and bridge any gaps. (I kind of overdid it... you really don't need to glob on so much solder.)
PIC Programming (as part of my current gallery show)
Originally written: Sun, Jul 17, 2005
Last modified: Sat, Dec 7-, 2005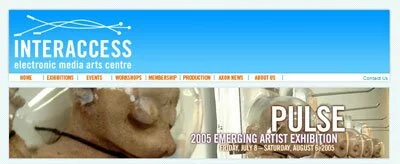 Well, I guess it's kind of late for announcements but if you haven't heard, I'm currently in InterAccess' Emerging Artist Show.
Every year, InterAccess selects an "emerging curator" who, in turn, selects about 4-5 recent graduates who do work within the new media field. So this year, (fly)light will be on display from now until August 6th.
I'm really excited about haven been picked but gallery artist I am not. In fact, the main reason why I am in the show is because of this blog... (Does this make me an "emerging blogger"?)
Anyways, if you drop by InterAccess, you'll find a little phamphlet I made up to go with (fly)light. I hope to make a couple more phamphlets later on but mini-issue #1 focuses on programming the PIC16F627 / PIC16F628.
For all you web and/or lazy people, you can download the .pdf version here (page 1) and here (page 2) or here (zipped up). It's suppose to be double-sided so print page 1 first and then print page 2 on the back.